CAMELOT CLUB PROG
NEWS LETTERS GENNAIO 2021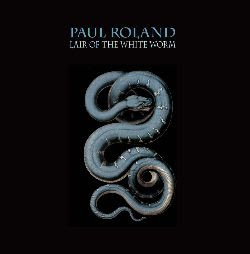 PAUL ROLAND "Lair of the White Worm' "
Cd digipack  € 17.00
LP gatefold   € 22.00
 
'…un'altra stranezza, era un album perso…Poi 21 idee abbozzate in 3 giorni! Il tutto dopo non aver scritto quasi nulla per circa due anni…' La dichiarazione è di Paul Roland, una delle figure più complete e misteriose nella storia della musica (classe 1959). Uno scrittore, musicista, giornalista e studioso dei fenomeni paranormali che ha scelto di donare al mondo la sua arte anche e soprattutto attraverso pentagrammi e tessiture. Raccontare Paul Roland e la sua carriera è quasi impossibile: la sua è una musica difficilmente 'ingabbiabile in una definizione': piuttosto rappresenta un complesso intreccio di numerosi stili musicali, a partire dagli anni '70. Roland si presenta, durante la sua carriera solista, in veste hard rock (quasi metal) o cantautoriale (sulla falsariga di Cohen anche se con vena dark), oppure, con la stessa facilità, soft o art rock. L'album 'Lair of the White Worm'  propone la title track con un paio di felicissime elaborazioni: Into the Lair of the Wait Worm 'baroque acoustic version' and 'Reprise', intervallate fra loro da un'interlude, una sorta di corridoio che, come nella favola di 'Alice nel paese delle meraviglie', catapulta nel magico mondo di Paul e della sua musica. '…Come promesso ho colto l'opportunità per finire il pezzo che ritenevo a suo tempo incompleto…' dichiara di nuovo l'autore. …Ci sei riuscito con grande maestria, aggiungiamo noi… Soprattutto l'ultima traccia è una perla, come si è abituati a trovare in ogni lavoro di Paul: 10' 11'' che lasciano indelebilmente il segno. Degni di nota anche Solemn Angel (The Tenderest Strain) dove calde voci femminili si fondono in riff controllati e interventi misurati. Il risultato? Travolgente. Potrà poi mai mancare nei lavori di Roland un viaggio fra folletti, atmosfere fiabesche e psichedelia barocca? Certamente no! ed ecco Moon Child che accontenta tutti grazie anche al sussurro di canoni ad opera di fate danzanti. '…Un nuovo 'vecchio album' che guarda avanti e indietro contemporaneamente; un rimando ai miei lavori del passato camminando però in un una nuova direzione…sparse psych stoner rock…' (definizione autografa) Un dato è certo: Paul Roland ama tutto ciò che gravita intorno all'ambiente dark e suoi fan lo amano anche per questo. 
 
            … another oddity, it was a lost album … Then 21 ideas sketched in 3 days! All after having written almost nothing for about two years … ' The statement is by Paul Roland, one of the most complete and mysterious figures in the history of music (born in 1959). A writer, musician, journalist and scholar of paranormal phenomena who has chosen to give his art to the world also and above all through staves and textures. Telling Paul Roland and his career is almost impossible: his music is hardly 'caged in a definition': rather it represents a complex interweaving of numerous musical styles, starting from the 1970s. Roland presents himself, during his solo career, in hard rock (almost metal) or songwriting (along the lines of Cohen even if with a dark vein), or, with the same ease, soft or art rock. The album 'Lair of the White Worm'  offers the title track with a couple of very happy elaborations: Into the Lair of the Wait Worm 'baroque acoustic version' and 'Reprise', interspersed with an interlude, a sort of corridor which, as in the fable of 'Alice in Wonderland', catapults into the magical world of Paul and his music. '… As promised, I took the opportunity to finish the piece that I considered incomplete at the time …' declares the author again. … You did it with great skill, we add … Above all, the last trace is a pearl, as we are used to finding in every Paul's work: 10 '11' which leave their mark indelibly. Also noteworthy is Solemn Angel (The Tenderest Strain) where warm female voices blend in controlled riffs and measured interventions. The result? Overwhelming. Could a journey through elves, fairytale atmospheres and baroque psychedelia be missing in Roland's works? Certainly not! and here is Moon Child who pleases everyone thanks to the whisper of royalties by dancing fairies. '… A new' old album 'that looks back and forth at the same time; a reference to my past works, but walking in a new direction … sparse psych stoner rock … '(autograph definition) One thing is certain: Paul Roland loves everything that revolves around the dark environment and his fans love him for that too. 
 
Max Marchini – Hymns from the HarbourCd papersleeve € 16.00
Meglio conosciuto come produttore e mainman dietro Dark Companion Records e la rinata Manticore Records, Max Marchini dà alla luce il suo primo album da solista dove suona tutti gli strumenti tranne due collaborazioni con la cantante d'avanguardia Paola Tagliaferro e con la straordinaria batteria indiana Pakhawaj di Akhilesh Gundecha su una traccia. Questo album era inteso come un regalo per i suoi amici, ma alla fine Dark Companion ha insistito per averlo disponibile in una edizione strettamente limitata per una nicchia di intenditori ed appassionati. Questo album è una raccolta piuttosto casuale di schizzi musicali, idee raccolte, esplorazioni di strumenti registrate in un periodo di oltre 10 anni, a casa a tarda notte, e mostra i molti volti di Max e le molte influenze dalla classica al folk, dalla musica indiana all'avanguardia elettronica dellla vecchia scuola di Berlino … ma reinventata in un nuovo stile assolutamente peculiare. Max Marchini: bass, acoustic and electric guitars, analog synthesizers, keyboards, electric sitar, percussion, treatments, mandolin, field recordings, sound projection. Paola Tagliaferro: vocal improvisations on Mokṣa and multi-layered voices on Atmen. Akhilesh Gundecha : pakhawaj on Mokṣa.
Best known as producer and mainman behind Dark Companion Records and the reborn Manticore Records, Max Marchini give birth to his first solo album where he plays all instruments except for two collaborations with avantgarde singer Paola Tafgliaferro and featuring the amazing Pakhawaj indian drum playing of Akhilesh Gundecha on one track. This album ws intended as a present for his friends but eventually Dark Companion insisted to have it available in a stricly limited run for a niche brotherhood of connoisseurs. This album is quite a a random collection of musical sketches, collected ideas, instruments explorations recorded over a period of more than 10 years, at home late night, and shows Max's many faces and many influences from classical to folk, indian music to electronic avantgarde of the old Berlin school… but reinvented in some absolutely peculiar new style. Max Marchini: bass, acoustic and electric guitars, analog synthesizers, keyboards, electric sitar, percussion, treatments, mandolin, field recordings, sound projection. Paola Tagliaferro: vocal improvisations on Mokṣa and multi-layered voices on Atmen. Akhilesh Gundecha : pakhawaj on Mokṣa.
BLIND GOLEM "A Dream Of Fantasy"Cd  € 16.50
Blind Golem è un nuovo progetto musicale che ripercorre i fasti del grande Hard Rock anni '70, con la classica formazione a cinque: voce, chitarra, tastiere, basso e batteria. Il nucleo iniziale nasce dai Forever Heep, tribute band degli Uriah Heep, che in diverse occasioni ha condiviso il palco in Italia e all'estero con Ken Hensley, storico tastierista della band inglese. Dopo alcuni cambi di formazione, nasce l'idea di esordire con un album di musica propria, cambiando nome in Blind Golem. L'album di esordio, A DREAM OF FANTASY è un eccitante viaggio in quel mondo sonoro di Hard Rock epico e melodico che ha reso grandi gruppi come Uriah Heep, Lucifer's Friend e Magnum, il tutto filtrato dalla personalità dei cinque musicisti veronesi. A suggellare il legame dei Blind Golem con le loro fonti di ispirazione, A DREAM OF FANTASY vede la partecipazione di un ospite veramente straordinario: si tratta del grande KEN HENSLEY, indimenticato tastierista e geniale compositore degli URIAH HEEP, che suona chitarra slide e tastiere sull'intensa THE DAY IS GONE, in quella che è una delle sue ultime sessions. A suggellare il tutto, l'evocativa copertina del leggendario RODNEY MATTHEWS, uno dei grandi illustratori del Rock, autore delle cover di Thin Lizzy, Magnum, Asia, Diamond Head, Tygers of Pan Tang e molti altri. I membri dei Blind Golem vantano tutti una lunga esperienza come musicisti, fra palchi e studi di registrazione: Zago e Dalla Riva, gli ideatori del progetto, suonano nei Bullfrog, storico trio Hard Rock Blues; Bistaffa ha suonato, fra gli altri, con Don Airey, Roger Glover, Tolo Marton, Forever Deep e John Papa Boogie; Mantovanelli con All Souls Day, Paul Chain, Rocken Factory; Vilardo con Moto Armonico, Trifase, Scorpions Tribute. + BLIND GOLEM: Andrea Vilardo – Voce Silvano Zago – Chitarra Simone Bistaffa – Tastiere Francesco Dalla Riva – Basso, Seconda Voce Walter Mantovanelli – Batteria.
 
Blind Golem is a new project born out of a lifelong passion for classic hard rock, with a big Hammond organ, screaming wah-wah guitars, massive choruses. The original seed comes from the tribute band Forever Heep, dedicated to the classic Uriah Heep repertoire, that played several times as a backing band for Ken Hensley himself, founding member of Heep. After several shows, the idea came to produce an album of original material in that same vein of melodic, epic and powerful hard rock and so Blind Golem was born! Debut album, "A dream of fantasy" is an exciting journey in that magical wonderworld first created in the seventies by bands like Magnum, Rainbow, Lucifer's Friend and of course Uriah Heep. To add depth to the occasion, the late great Ken Hensley himself is guesting on the album, playing Hammond organ and slide guitars, for what is one of his last recorded sessions, before his untimely passing last November. Cover art was made by none other than the legendary Rodney Matthews, responsible for countless classic covers for bands like Thin Lizzy, Nazareth, Magnum, Diamond Head, etc. The members of Blind Golem all come from experienced bands, having released several albums with Bullfrog, Rocken Factory and Forever Deep, and played thousands of shows through the years with rock legends like Don Airey, Roger Glover, Ian Paice, Bernie Marsden. Line up: Andrea Vilardo, lead vocals Simone Bistaffa, Hammond organ, piano, keyboards Silvano Zago, guitars Francesco Dalla Riva, bass, lead and backing vocals Walter Mantovanelli, drums
Le Grand Sbam – FURVENTCd  € 16.00 Un album di furiosa creatività segna il ritorno della band d'oltralpe che già aveva stupito lo scorso anno con il formidabile esordio di Vaisseau Monde. Questo Furvent mi ha ricordato le avventurose escursioni degeneri del Willem Breuker Kollektief: musique concrete, post-punk, klezmer, free jazz, classica contemporanea, etnica, progressive e alt rock in una miscela helzapoppiana d'irresistibile freschezza. Un album sorprendentemente variopinto e dinamico venato da una deliziosa vena schizofrenica che si dipana tra le tracce che lo proiettano immediatamente tra i grandi album di musica alternativa stile Rock in Opposition (Max Marchini, Rockerilla). Disponibile il nuovo album che sta accogliendo critiche a cinque stelle in tutto il mondo. Un disco di sicura avanguardia che sbalordirà i fan di Henry Cow, Gong, Wilem Breuker e, in generale, di tutta quell'area tra il progressive rock e la ricerca delle avanguardie musicali che va sotto l'etichetta di Rock In Opposition. Un' overdose di idee e creatività per un album che lascerà il segno nella storia del rock. Track List: 1. La trace 2. Nephèsh 3. Yi Yin I Tchen (Le tonnerre) 4. Yi Yin I Souen (Le vent) 5. Yi Yin I Li (Le feu) 6. Yi Yin I K'ouen (La terre) 7. Yi Yin I Touei (Le lac) 8. Yi Yin I K'ien (Le ciel) 9. Yi Yin I Kan (L'eau) 10. Yi Yin I Ken (La montagne) 11. Choon Choon Antoine Arnera I piano, electronics, voice, composition Boris Cassone I bass, mellotron, voice Jessica Martin Maresco I voice Guilhem Meier I drums, amplified percussions, voice, composition Marie Nachury I voice Grégoire Ternois I marimba, dun dun bells, gong Mihaï Trestian I cimbalom Anne Quillier I Moog, Fender rhodes, voice An album of furious creativity marks the return of the French band that had already amazed last year with the formidable debut of Vaisseau Monde. This Furvent reminded me of Willem Breuker Kollektief's adventurous degenerate excursions: musique concrete, post-punk, klezmer, free jazz, contemporary classical, ethnic, progressive and alt rock in a Helzapoppian blend of irresistible freshness. A surprisingly colorful and dynamic album tinged with a delicious schizophrenic streak that unravels among the tracks that immediately project him among the great Rock in Opposition style alternative music albums (Max Marchini, Rockerilla). Available the new album that is receiving five-star reviews around the world. A record of sure avant-garde that will amaze fans of Henry Cow, Gong, Wilem Breuker and, in general, of the whole area between progressive rock and the search for the musical avant-garde that goes under the label of Rock In Opposition. An overdose of ideas and creativity for an album that will leave its mark on the history of rock. Track List: 1. La trace 2. Nephèsh 3. Yi Yin I Tchen (Le tonnerre) 4. Yi Yin I Souen (Le vent) 5. Yi Yin I Li (Le feu) 6. Yi Yin I K'ouen (La terre) 7. Yi Yin I Touei (Le lac) 8. Yi Yin I K'ien (Le ciel) 9. Yi Yin I Kan (L'eau) 10. Yi Yin I Ken (La montagne) 11. Choon Choon Antoine Arnera I piano, electronics, voice, composition Boris Cassone I bass, mellotron, voice Jessica Martin Maresco I voice Guilhem Meier I drums, amplified percussions, voice, composition Marie Nachury I voice Grégoire Ternois I marimba, dun dun bells, gong Mihaï Trestian I cimbalom Anne Quillier I Moog, Fender rhodes, voice 
NODO GORDIANO "Sonnar"         
 CD  €  15.00

 "Sonnar", quinto album del progetto NODO GORDIANO, è un viaggio ipnagogico, sospeso tra meditazione sul valore della specificità individuale e trasfigurazione del reale. E' un album profondamente deleuziano, per l'omaggio a Nietzsche recuperato alla sua dimensione non strumentalizzata di artista, per l'eterna lotta tra forze attive e forze reattive, tra individuazione affermativa ed omologazione imitativa, per il taglio metodologico antirappresentativo, grazie al quale la musica non viene scritta e separatamente riprodotta, ma si autodetermina nell'unico ed irripetibile momento in cui viene registrata, praticando una sorta di 'emotional discharge'. Il lavoro è diviso in tre momenti che ruotano attorno all'esperienza dell'Altro, separati tra loro da demoni che, come nella tomba degli Anina, custodiscono il mistero del Fuori, e si conclude con i versi dell'inno vedico a Sūrya, a memoria del simbolismo solare che, anche nelle tenebre, lo pervade.
 
"Sonnar", fifth album of the NODO GORDIANO project, is a hypnagogic journey, suspended between meditation on the value of individual specificity and the transfiguration of reality. It is a profoundly Deleuzian album, for the homage to Nietzsche recovered to his non-instrumentalized dimension as an artist, for the eternal struggle between active forces and reactive forces, between affirmative identification and imitative homologation, for the anti-representative methodological cut, thanks to which the music is not written and reproduced separately, but is self-determined in the one and unrepeatable moment in which it is recorded, practicing a sort of 'emotional discharge'. The work is divided into three moments that revolve around the experience of the Other, separated from each other by demons who, as in the tomb of the Anina, guard the mystery of the Outside, and ends with the verses of the Vedic hymn to Sūrya, a memory of the solar symbolism that, even in darkness, pervades it.
 

 



 
MINDANCE  "Cosmically nothing"                                        
 CD € 15.00
"Potremmo definire i MINDANCE gli Hawkwind del Molise (con echi Pinkfloydiani…), tracciando coordinate di prog-psichedelia e space-rock, un riferimento di spessore, importante anche perchè poco frequentato in Italia. Ma c'è anche altro nella band di Campobasso, un background eterogeneo e un percorso che è anche originalità e lo stratificare di sonorità diverse alla ricerca di una propria identità.

Da quella che potrebbe definirsi una vera e propria "comune musicale" frequentata da decine di persone che si ritrovavano in ambienti vari, polverosi e fumosi per il solo gusto di stare insieme e insieme suonare interminabili improvvisazioni al di fuori dell'ortodossia musicale, nasce l'embrione che sarebbe diventato minDance.Quattro, tra i tanti,provano a strutturare quegli incontri musicali senza snaturarne l'essenza evocativa fatta di psichedelia,dark e prog.
Il nuovo sound è la migliore sintesi di 4 diverse anime che fondono esperienze jazz, psichedeliche, elettroniche,dark e prog in un risultato originale e raro nel panorama musicale italiano.



"We could define MINDANCE as the Hawkwind of Molise (with Pinkfloydian echoes…), tracing coordinates of prog-psychedelia and space-rock, a reference of depth, also important because it is not very popular in Italy. But there is also more in the band from Campobasso, a heterogeneous background and a path that is also originality and the stratification of different sounds in search of its own identity. 
 
 
From what could be defined as a real "musical commune" frequented by dozens of people who found themselves in various environments, dusty and smoky just for the sake of being together and playing interminable improvisations outside of musical orthodoxy, the embryo that would become minDance. Four, among many, try to structure those musical encounters without distorting their evocative essence made of psychedelia, dark and prog. 
The new sound is the best synthesis of 4 different souls that blend jazz, psychedelic, electronic, dark and prog experiences in an original and rare result in the Italian music scene.
 
 
 
KOSMOS  "Ajan Peili"               
 CD € 15.00

 Il quinto album dei finlandesi KOSMOS "Ajan Peili".
"Ajan Peili", ovvero "Lo specchio del tempo" è un altro magico scrigno che racchiude le tipiche atmosfere psych-folk-prog con forti connotazioni seventies della band di Turku.
Le incantevoli melodie del Mellotron, combinate con delicate chitarre acustiche, la dolcezza del flauto, del violino, del piano e del canto di Paivi Kylmanen diventano purezza e serenità di un suono pastorale, a tratti malinconico, proiettato su sentieri mistici e ancestrali.
Anche "Ajan Peili", come in altri album precedenti, mette in rilievo le due diverse facciate dei KOSMOS: un lato a evidenziare dolcezza e leggerezza a tinte prog-folk (emblematica la toccante title-track in apertura) e un altro lato a mostrare una visionaria inquietudine attraverso una maggiore propensione psichedelica.
Questo seconda propensione trova stavolta la sua massima espressione nei quasi dodici minuti di "Mina Olen" (Io sono) preceduti dall'oscura parte recitata con sax teso e straniante di "Jatkuvuus" (Continuità), con un riff ossessivo di chitarra elettrica e il mellotron sempre protagonista. Uno dei pezzi più magnetici di sempre da parte dei KOSMOS !!
Elemento centrale sono i testi poetici e filosofici di Olli Valtonen.
 
 

 
the fifth album by the Finnish KOSMOS "Ajan Peili" .
"Ajan Peili", or "The mirror of time" is another magical casket that contains the typical psych-folk-prog atmospheres with strong Seventies connotations of the Turku band. The enchanting melodies of the Mellotron, combined with delicate acoustic guitars, the sweetness of the flute, the violin, the piano and the song of Paivi Kylmanen become the purity and serenity of a pastoral sound, at times melancholy, projected on mystical and ancestral paths. Even "Ajan Peili", as in other previous albums, highlights the two different sides of KOSMOS: one side to highlight sweetness and lightness in prog-folk shades (the touching title track is emblematic) and another side to show a visionary restlessness through increased psychedelic propensity This second propensity finds its highest expression this time in the almost twelve minutes of "Mina Olen" (I am) preceded by the obscure recited lyrics with tense and mysterious sax of "Jatkuvuus" (Continuity), with an obsessive electric guitar riff and the mellotron always protagonist. One of the best track ever from KOSMOS !!
Central element are the poetic and philosophical lyrics of Olli Valtonen.
Copyright © 2021 Camelot Club Prog, All rights reserved.
Ricevi questa newsletter perché hai richiesto di essere aggiornato su tutte le novità discografiche prog o perché sei già un nostro cliente.

Our mailing address is:
Camelot Club Progvia Duse, 6Vigevano, PV 27029Italy
Add us to your address book

Want to change how you receive these emails?
You can update your preferences or unsubscribe from this list.